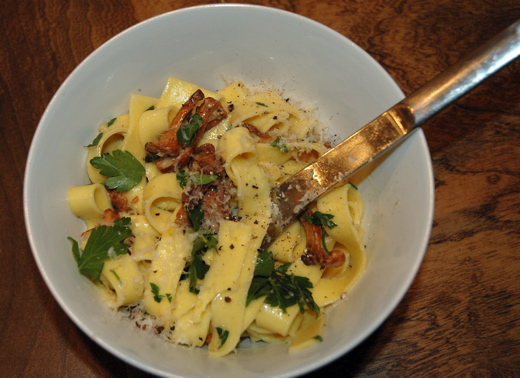 When I go to the market to prepare for dinner, I frequently have nothing particular in mind—this is more a symptom of my chronic indecision than it is part of some romantic ideal of fresh food. But sometimes, that just happens to be an excellent benefit to my tactics.
I've been finding some really beautiful morels at my favorite local produce store, but as I was about to pick some up the other day, I noticed some mushrooms we don't see here very frequently—chanterelles. With their bright orange hue and fresh, earthy aroma, it was hard to pass them up.
Doing some preliminary searching for recipe ideas, I only found ones that were muddled and over-wrought, not something you're looking for when the product you're using is almost $30 per pound. Luckily, I was able to ask Neal for advice with his trusty
Flavor Bible
in hand, and chose to play off one of the classic chanterelle flavor affinities: butter, cream, garlic, and parsley.
Rich, creamy, but still fresh tasting, this dish was perfect for the chilly summer night here. It was also a perfect display of such delicious mushrooms.
RECIPE (serves 2):
1/2 lb dried pappardelle (but use fresh if you can!)
1/4 lb fresh chanterelles, washed carefully and dried, and cut in half
2 tbsp butter
1 clove garlic, minced
zest of half a lemon
3 tbsp cream
2 tbsp dry vermouth
1 strip thick-cut bacon, cut in 1/2 inch pieces
large handful of fresh parsley, roughly chopped
1/4 cup parmesan, grated
Put a large pot of salted water on to boil for the pasta. Start by heating the butter in a medium skillet over medium-low heat. When the butter has melted, add garlic and lemon zest, stir around, and heat until it becomes fragrant, about 1 minute. Now add the chanterelles and stir them around to coat in butter, stirring occasionally, for about 10 minutes, or until they begin to lose shape and soften.
Meanwhile, fry your bacon pieces and pop the pappardelle in the boiling water and cook according to the instructions on the package, usually around 10 minutes.
After the chanterelles are soft, add a splash of vermouth and turn the heat up to medium until the alcohol has burned off. Now add your cream and half the parsley, stir around until it simmers, and take off heat, adding the rest of the parsley and the bacon. Drain the pasta, reserving a few tablespoons of the cooking water to throw into the pasta. Add the parmesan, a few cracks of black pepper, and enjoy!