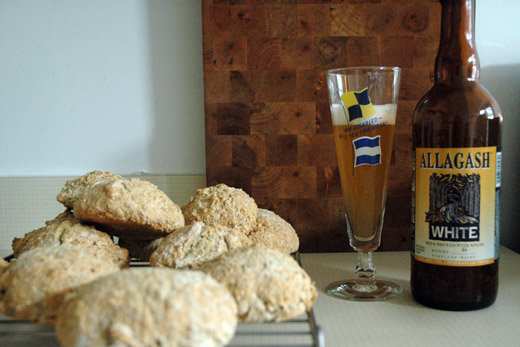 About a year ago, we fell in love with the
Big Sur Breakfast Pizza
. It has since become a brunch staple (whenever I remember to make the pizza dough in advance) and has rocketed
The Big Sur Bakery
high on my "must-one-day-visit" list.
In my effort to eat a bit healthier this summer—eliminating big portions of meat, trying to eat whatever I bring home from the farmers market, and adding more grains to my diet—I've been reading the wonderful vegetarian recipe blog
101 Cookbooks
. The other week, I stumbled upon a recipe I simply had to make from none other than
The Big Sur Bakery Cookbook
.
The book is on its way from Amazon, but in the mean time, I simply had to try their recipe for
hide bread
, dense grainy rolls filled with oat bran, flax seeds, and a kiss of beer. Now, I've had my share of bad luck when it comes to bread, but I must say—these are absolutely perfect!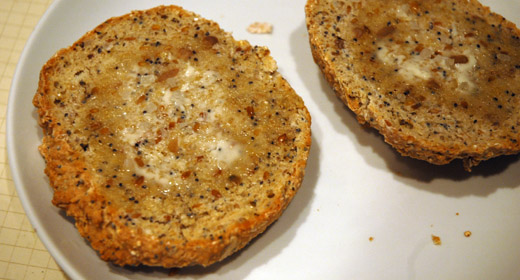 RECIPE: BIG SUR BAKERY HIDE BREAD
(yield: 15 4-inch rounds)
Note: Many of the comments on 101 Cookbooks suggested the rolls baked up hard and brittle, but I didn't have a problem. I cut down on the flour by a whole cup, make sure your baking soda is fresh, and I suggest using whole milk or buttermilk to give just a little fat to the bread. They've also kept great for a few days now—just pop them in the toaster for a few minutes.
4 cups all-purpose flour, plus more for dusting
2 cups oat bran
1/2 cup flax seeds
1/2 cup sesame seeds
1/4 cup sunflower seeds
1/2 cup amaranth, quinoa, millet, or poppy seeds (or a combination—I used poppy seeds and quinoa since I had them on hand)
1 teaspoon kosher salt
1 teaspoon baking soda
1/4 cup plus 2 tablespoons beer (I used the always drool-worthy Allagash White Ale)
2 1/2 cups buttermilk or whole milk
Adjust the oven rack to the center position and preheat it to 375 degrees. Line a baking sheet with parchment paper, or use a silicon mat.
Mix all the dry ingredients together in a very large bowl and make a well in the center. Add the beer and milk. Mix together with the handle of a wooden spoon until you have a thick, wet batter (definitely more of a batter than a dough). Sprinkle some flower on top and turn over onto a lightly floured countertop. With your hands, roll into a log shape (sprinkling more flour on top if needed) until it is quite long and about 2 inches in diameter. Cut into 1 1/2 inch think slices and then roll them into patties with your (floured) hands. Place patties on the baking sheet (I needed two) and bake for 45 minutes, until golden brown. Let cool.
To serve, slice the round in half, toast, and add a nice pat of butter and a sprinkling of sea salt.