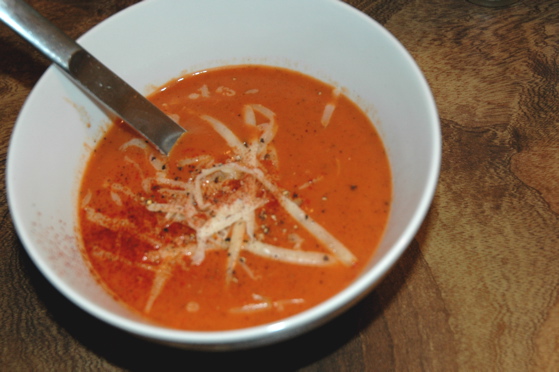 It was a chilly May evening here in Chicago and my dinner options were slim: I had a paper to write, a flight to New York to catch in the morning (more about that to follow in future entries), and not much to work with in my fridge. Luckily, I stumbled across a recipe for tomato soup in Deborah Madison's fantastic
Vegetarian Cooking for Everyone
. Using her soup as a template, I created my own version for lack of celery, milk, basil, or a few other key ingredients in less than 30 minutes.
Even with my major modifications, I totally lucked out! This soup was so delicious and took hardly any time at all. I had some
Carr Valley
applewood-smoked paprika-rubbed cheddar I was dying to use (a delicious cheese I found at Whole Foods here in Chicago), so I grated a little on top. I also used fire-roasted tomatoes, which added to the smokiness, but feel free to use something different if you have others on hand. Since I had just finished my paper, I enjoyed it with a
Great Lakes
Burning River Pale Ale. Whatever I didn't eat, I froze for my lunches after I got back from my vacation.
Smoky Tomato Soup (serves 3–4)
28 oz. tin diced tomatoes (preferably fire-roasted)
2 cups chicken stock (or water)
1 medium carrot, roughly chopped
1 small red onion, roughly chopped
2 bay leaves
1 tsp thyme
2 tsp hot paprika
2 tbsp butter
2 tbsp cream
2 tbsp flour
1 tsp baking soda
salt and pepper to taste
grated paprika smoked cheddar (for garnish)
Heat the butter in a medium pot over medium-low heat and throw in the carrot, onion, thyme, paprika, and bay leaves. Cook until the veg is starting to soften, about 10 minutes.
Now add the flour, baking soda, tomatoes, stock (or water), and bring to a boil and then turn to low and simmer for about 20 minutes, stirring every once in a while.
Once you have a nice thick soup, let it cool for a few minutes and blend it together. An immersion blender is GREAT for this, but if you are using a regular blender or food processor, just make sure you are EXTRA careful since no matter what, I always end up burning myself or covering my shirt in soup. You want it smooth, but I don't think it needs to be TOO smooth.
Finally, stir in the cream, taste to correct seasoning (adding black pepper really helps this soup, and I added a little extra salt, too), and serve. You can also grate over some of the cheese if you want to use it (I found myself adding more and more, so I definitely recommend it), or even better, serve with a grilled cheese sandwich!