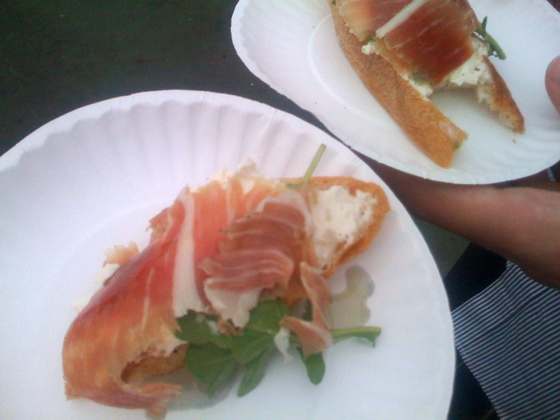 A few months ago, I became a little enchanted with the
New York Times' reporting of the emerging Brooklyn culinary scene
. As an aspiring home cook with DIY tendencies, I began to fantasize about what I could do with just a little capital and a lot of time.
So on our recent trip to New York, I knew I wanted to check out some of these places, but it seemed nearly impossible when they were scattered all over Brooklyn. How could I sample
Salvatore's Ricotta
and
Mast Brothers Chocolate
?
And then I remembered about something else I had read about:
Brooklyn Flea
, a wonderful market of food vendors, antiques, and crafts set in Fort Greene, Brooklyn. We got out of bed and rushed over as fast as we could, finding ourselves on a school's track field, over our heads in culinary delights. (Even foodie favorite Ted Allen was there to indulge!)
We sampled
McClure's
spicy and dill pickles (the former were amazing, the latter also pretty delicious), some of
Rick's Picks'
pickled beets and green beans, and even some chocolate from
Fine & Raw
(sadly Mast Brothers Chocolate does not seem to participate in this culinary extravaganza).
The real treats, however, were vendors whipping up lunch on the spot. I couldn't resist the pieces of baguette covered in a thick layer of Salvatore's whole-milk ricotta, sprinkled with sea salt, topped with arugula and cured ham and then drizzled with olive oil—easily one of the most delicious things I have ever eaten.
We got a pretty wonderful grilled cheese from
Saxelby Cheesemongers
, topped with thin slices of spicy McClure's pickles (although it could have used a few extra minutes on the griddle, but they were pretty backed-up).
Asia Dog served hot dogs in a similar way to Chicago's own
Hot Doug's
but succeeded where Doug does not, creating interesting combinations without the standard sauce + cheese method Doug is so fond of. We got a Vietnamese style banh mi dog topped with herbs and vegetables like the traditional sub, and the real winner, a Chinese BBQ-style dog topped with a tangy sauce and pork belly.
And for desert? Well, the logical choice would have been a cannoli from Salvatore's, but when those little sandwiches were so good, why not return for seconds?